Come visit us at Stroh 116 C-D.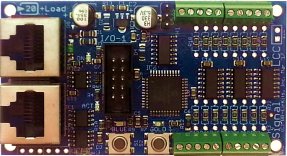 RR-CirKits

is your best source for NMRA LCC compatible products.
Support for 16 Input/Output lines.
Includes drive for any combination of:

Up to 16 Input Lines.
Up to 16 Output Lines.

Internal Logic Blocks with up to 32 conditional statements.
Communicates over the CAN bus version of LCC.
CDI controlled configuration via Software. (e.g. JMRI DecoderPro 4.8 or later.) Both reading and writing of description values is directly supported.
All configuration is stored internally in the nodes, and may be changed at any time on any system. (no local files to keep up to date)
Automatically saves all data including input/output states during power down.
Boot Loader protocol allows firmware upgrades over the LCC Bus connection.
Power is supplied over the LCC Bus.
LCC Buffer-USB
NMRA CAN bus LCC

®

to USB interface.

2,500 Volt High Speed Digital isolation between CAN bus LCC® and USB port.
Simplify your LCC configuration and/or use a PC based CTC.
Compatible with JMRI OpenLCB.
Type B USB connector for PC connection.
Dual RJ45 connectors for easy CAN bus LCC®

loop through connections.
4 LED display status. (Ready, Power, Transmit, and Receive)
Small package size. Just 1-1/2" x 2-1/4" x ¾".
Ready to run unit includes USB cable. – Nothing extra to purchase.
Standard 125,000 Baud CAN bus LCC interface speed. – No jumpers or switches to set.
Buffered inputs and outputs for full speed, error free data transmission.
Powered directly from LCC®

bus connections* and USB port.
*Note: Requires a powered LCC bus. [10 ma. bus load]
LCC Repeater
LCC Terminator Pair
NMRA CAN bus LCC

®

Termination Pair

.
May be used to provide the required termination at each end of the CAN bus LCC®

Balanced CAN termination

provides the

best noise rejection

.

Includes CAN bus Power Indicator and CAN bus data monitor for easy network cable trouble shooting.

LCC Power-Point
LCC Power-Point ties together 2 LCC jacks, a Traffic Monitor, and a power supply.
Create a powered LCC bus for simple wiring by powering your LCC Nodes over the cable.
The LCC Power-Point supplies 1/2A to each LCC CAN Bus cable.
PS-S-15-1200 universal switching power supply is included. (Terminator and CAN bus cable shown are not included)
Additional Power-Point units may be added as required by your system's power requirements.


LCC

®

is a trademark of the NMRA